St Barnabas Parish
These are the roads, or parts of roads, which are in St Barnabas' parish, in alphabetical order.
Albert Road
Alfred Road
Benhill Road part
Betchworth Close
Bishops Place
Bramley Road
Browning Avenue Nos. 1–25
Byron Avenue
Byron Avenue East
Carshalton Grove
Carshalton Road part
Cliffe Walk
Clowser Close
Colston Avenue
Constance Road
Corrib Drive
Cowper Avenue
Croft Road
Cross Road
Dovercourt Lane
Duchess Close
Duke Street
Erskine Road not 39–175, 32–164
Florian Avenue
Gauntlett Road
Godstone Road
Goosens Close
Greyhound Road part
Harold Road
Highfield Road
Hope Close
Kings Lane even numbers 2a–10 only
Kingsley Avenue not north end dog-leg
Langley Park Road Nos. 8, 4, & 1–11 only
Lavender Road
Lind Road
Lower Road
Manor Lane Nos. 58, 68 only - as far as Myrtle Rd
Marlins Close
Meadow Road
Milton Avenue not 1–35, 2–40
Montana Gardens
Montpelier Road
Morland Road
Munslow Gardens
Myrtle Road east side only (that is, even numbers)
Oakhill Road even Nos. only up to Thicket Road
Oliver Road
Osborne Place
Orchard Way not 48–54
Palmerston Road
Parkhurst Road
Princes Street
Reading Road
Relco Gardens
Ringstead Road
Rossdale
Shirley Avenue not 25–83, 10–38
Shott Close
St Barnabas Road
Sutton Grove
The Crescent
Thicket Road Even Nos. 2–54 only
Thicket Crescent
The Broadway, South side
Turnpike Lane
Upper Vernon Road
Vernon Road
Victoria Road
Waterloo Road
Westmead Road
Weihurst Gardens
Weihurst Court
William Road


St Barnabas Parish
The map below shows the approximate area covered by Saint Barnabas parish, and identifies neighbouring parishes. Our church building is indicated by a cross just below the "a" of "Parish" on the map.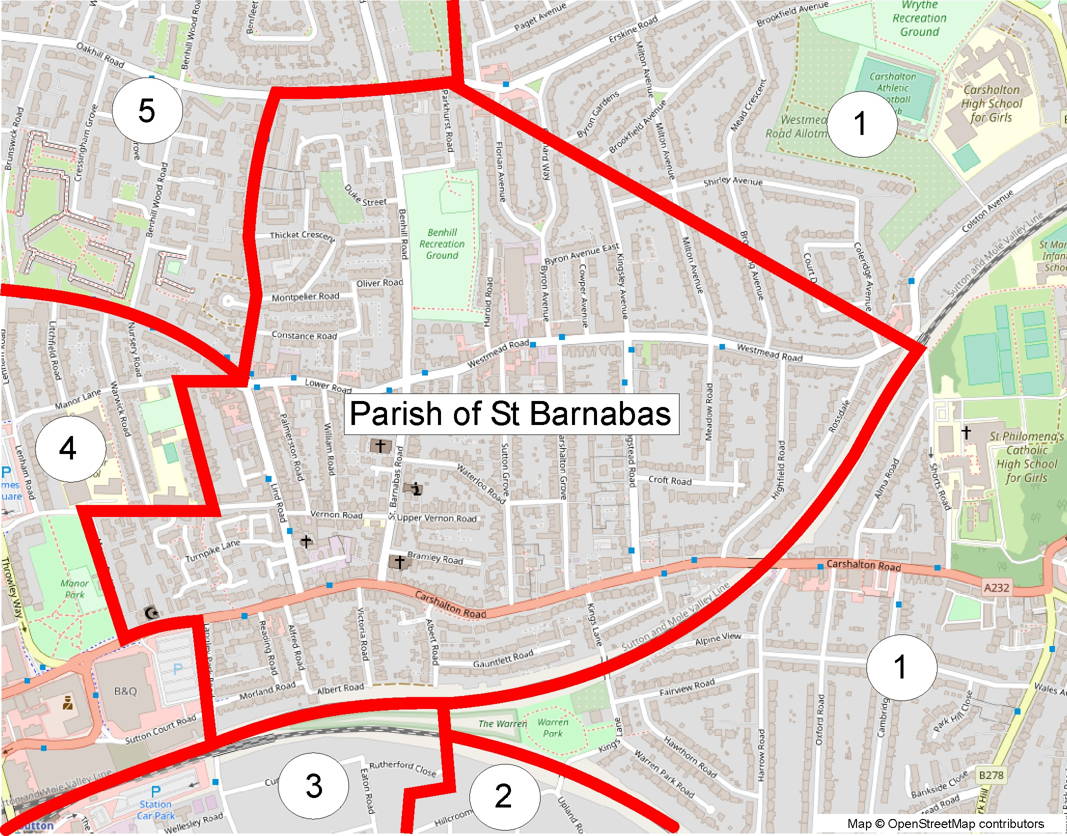 The neighbouring parishes shown on the map are:
Contact details for all of the parishes in Sutton are shown here.