St Barnabas Church Location
The church building is located in east Sutton in St Barnabas Road SM1 4NP, WhatThreeWords: ticket corn races. This link shows the location in Google Maps.
There is hardly any parking available in St Barnabas Road and only very limited parking in the church grounds. However, we are well served by public transport. The 154 and S3 buses stop at Benhill Road at the junction with St Barnabas Road and the 407 bus stops at the Lind Road stop on the Carshalton Road, a very short distance from St Barnabas Road. You may find the Transport for London Sutton bus map helpful, as well as their Journey Planner. And you can also use the local Go Sutton on-demand bus service.
Sutton Railway Station has frequent local trains, and there is a taxi rank outside the station. The station is in the bottom left-hand corner of the map below, and is within walking distance, about ½ mile, from St Barnabas; on leaving the station ticket hall turn right, cross over the one-way system and walk down to the next crossing, cross over and then turn right and continue past B&Q until you reach St Barnabas Road and then turn left. St Barnabas Church is part-way down St Barnabas road on the left.

St Barnabas Parish
The map below shows the approximate area covered by Saint Barnabas' parish, and identifies neighbouring parishes. Our church building is indicated by a cross just below the "a" of "Parish" on the map.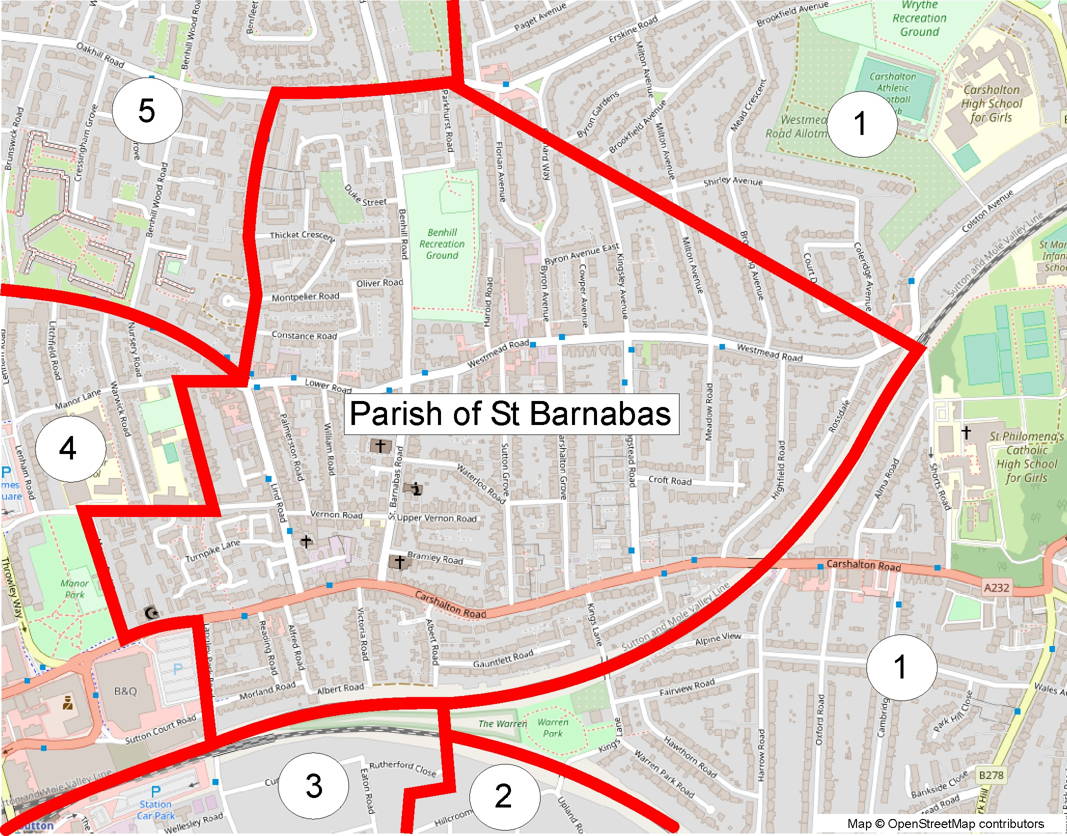 The neighbouring parishes shown on the map are:
Contact details for all of the parishes in Sutton are shown here.